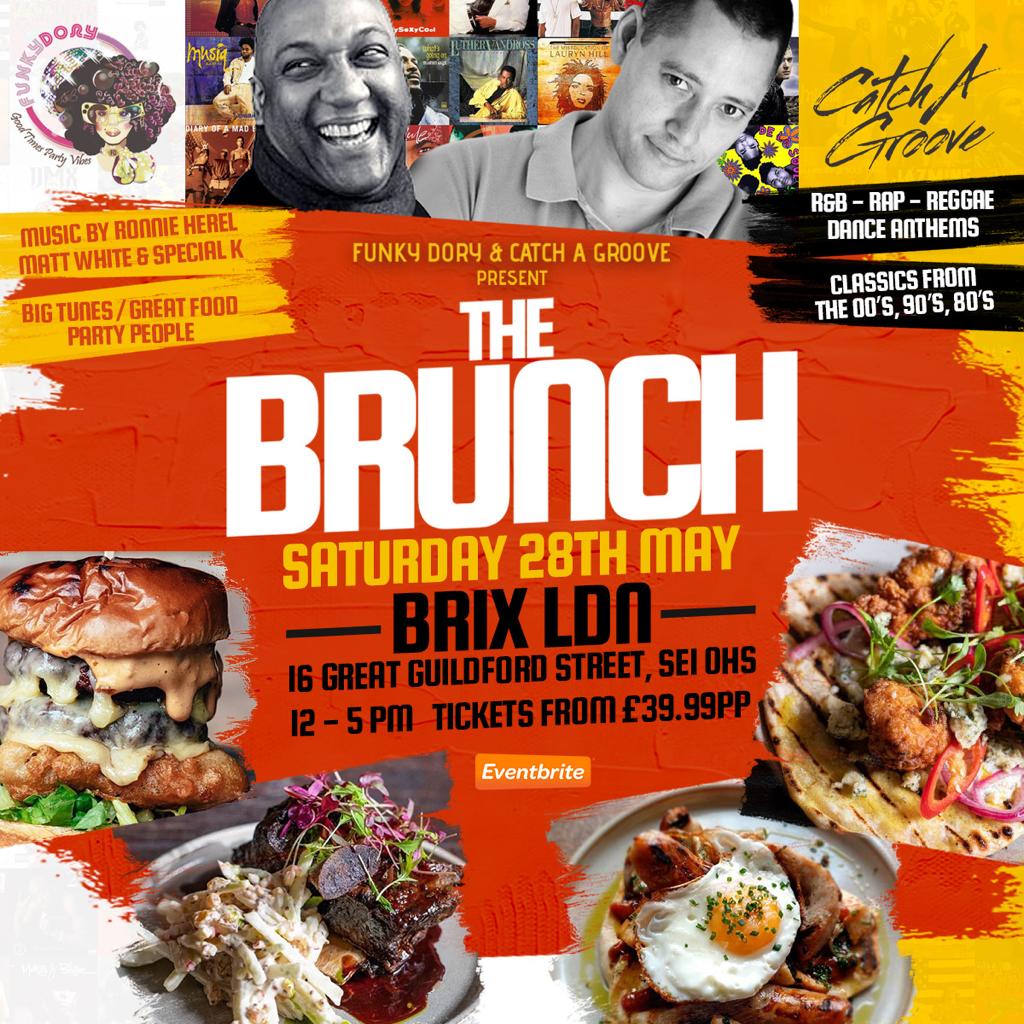 Funky Dory & Catch a Groove Presents: The Brunch & After Party – 28th May
Saturday 28th May, 2022
at BRIX LDN
16 Great Guildford Street,
 London, SE1 0HS
12pm-5pm BST (Brunch)
5pm-1am (After Party)
Come and get down with us as we launch The Brunch in association with Catch a Groove…we promise it's gonna be a good one so go grab your friends, loved ones and join us for some delicious food and BIG party tunes.
About:
Once you have experienced "The Brunch" you won't want to be at any other party. Taking inspiration from steak and smoke houses of New York City's meat packer district, BRIX LDN has thrown its doors open to all the ravers of the Funky Dory & Catch A Groove families to come and enjoy an amazing 2 course meal whilst listening to club classics from the 00's, 90's and 80's with award winning DJ's including our very own Ronnie Herel and Matt White (Catch A Groove & Mi-Soul) plus special guests.
Expect your tastebuds to be seduced by the stunning and varied menu on offer, using only the finest seasonal ingredients, whilst your ears and body are taken over by the desire to get up and dance in this ubercool venue. Once you have finished your two course meal make your way downstairs and down a few of London's finest cocktails at our after party from 5pm till late. All brunch tickets inc a 2 course meal and entry to our after party.
DJ's on rotation:
Ronnie Herel
Matt White
Gordon Mac
DJ Cable
Special K (Birthday Boy)
Tickets:
Brunch + After Party tickets: From £39.99-£45 per person and include a 2-course delicious brunch and entertainment. We have tables that seat 2-10 people.
After Party tickets: £15pp
You can purchase all tickets via Eventbrite by clicking here 
We look forward to seeing you at our launch of The Brunch!